College Notes: April & May 2019
| | |
| --- | --- |
| 01:10PM / Tuesday, April 16, 2019 | |
---
Ryan Benoit of Williamstown received the Student Association Volunteer of the Year at the 2019 Cocurricular Awards Ceremony at Western New England University. Senior Associate Director of Residence Life Beth A. Hill presented the award. Benoit is majoring in business analytics and information management at the Springfield university.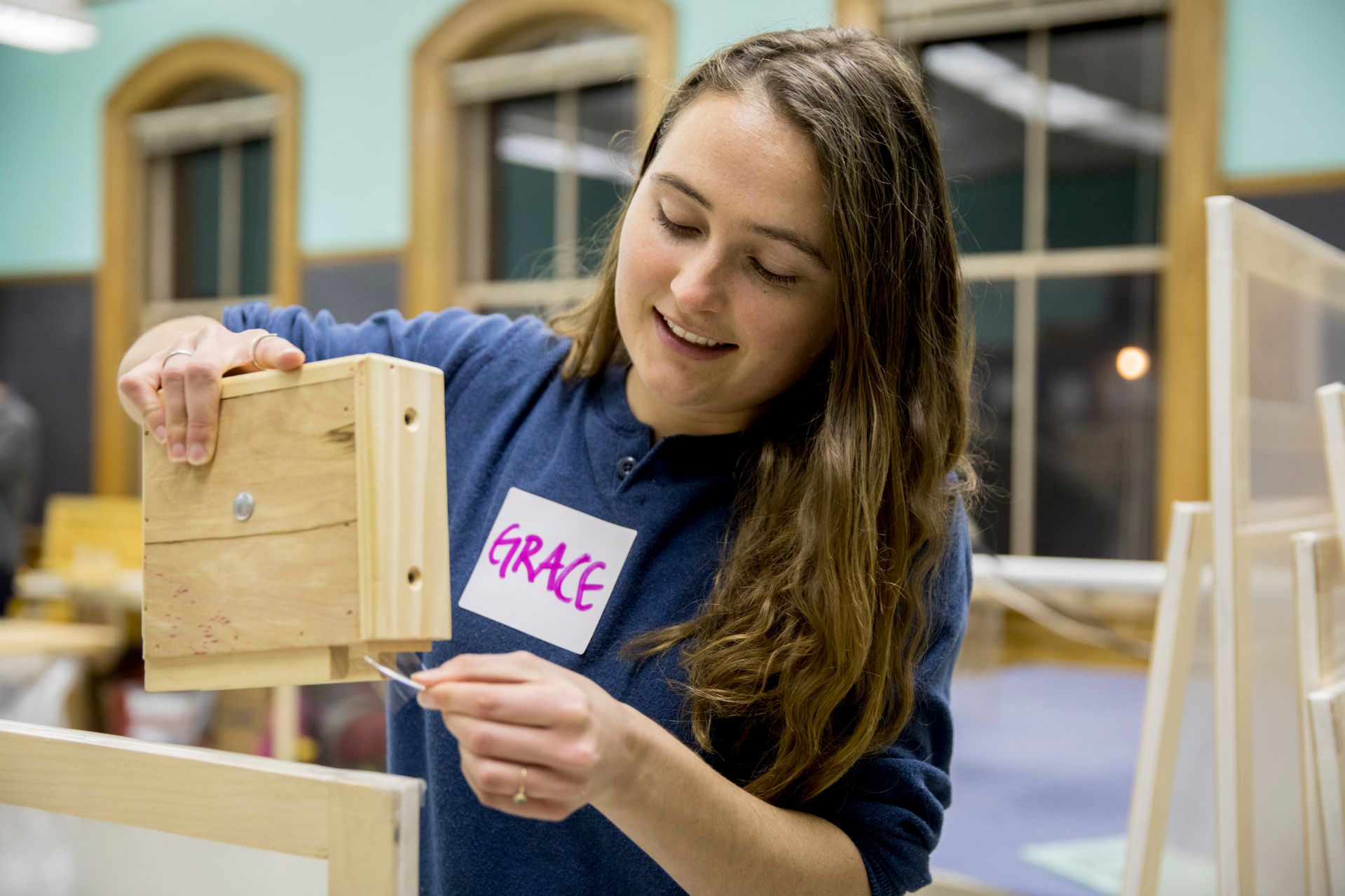 Grace Ellrodt of Lenox, a junior at
Bates College
in Lewiston, Maine, recently presented the results of her environmental studies capstone project titled "Insulating Window Insert Interventions in Energy Injustice: Incentives, Barriers, & Strategies."
Ellrodt, the daughter of Dr. and Ms. Anthony G. Ellrodt and a 2016 graduate of Lenox Memorial High School, worked with two other students, Newell Woodworth of Lambertville, N.J., and Griff Golden of Riverside, Conn., on the project in collaboration with
Window Dressers
, a nonprofit working to help insulate homes.
As part of their environmental studies major, Ellrodt, completed courses in natural sciences, social sciences, and humanities in addition to a 200-hour internship and the community-engaged capstone course in which groups of students pair with a community organization to bring scientific and other types of expertise to a specific project that addresses a community-identified need. Bates' environmental studies program is a national model for building civic engagement into academic programs.
Three local students at Lasell College participated in a mock trial at the Newton college's Connected Learning Symposium on Dec. 4, 2018, and Housatonic student gave a media ethics presentation.
Elizabeth Chapman, a fashion and retail merchandising major, and Hannah King, a history major, both from Pittsfield, participated on the plaintiff's team. Chapman delivered the closing argument and King performed the direct examination of a witness.
In preparation, students in the course learned the order in which a trial is conducted, courtroom etiquette, and techniques of cross- and direct-examination. The teams conducted the trial in front of a panel of mock jurors comprised of faculty and staff and a judge, professor Linda Bucci.
Brianna VanDeusen, a communications student from Housatonic, presented work on media ethics through research conducted in a course on the same topic.
In the course, students explored sound, ethical communication practices in mass media professions and compared those with current trends and historical case studies. VanDeusen presented with this group for the entire college community.
The symposiums occur twice a year to showcase student work tied to real-world clients and applications outside of the classroom. The day featured events and presentations including a professional business negotiation for the location of the 2032 Olympics, performance art, sustainable fashion design, media ethics, crime theory, intergenerational genealogy, and more.
Maya Finston-Fox of Monterey was among 44
Baldwin Wallace University
students who participated in the Berea, Ohio, college's Alternative Break service program that provides community engagement in projects across the nation.
Finston-Fox, a graduate of Miss Hall's School majoring in political science, volunteered in Montgomery, Ala., with the theme of "Civil Rights: Then and Now." The students followed in the footsteps of the great men and women who have helped institutionalize nonviolence in the U.S. and learned about the history and future of the Civil Rights Movement. In partnership with the Equal Justice Initiative and Selma Center for Nonviolence, they served alongside people who encourage open dialogue, peaceful mediation and honest community building as a solution to conflict and violence. The trip was led by BW student Katie Rider with support from staff adviser Kristen Catrina.
Skookum Awards of Excellence will be presented to London Green of Adams, a psychology major, and Patrick Tierney of Pittsfield, a biology major, by the Western New England University Alumni Association.
The award was established in 1989 as a way to recognize the outstanding achievements of the university's students. It recognizes their leadership roles on campus, community service/volunteer experiences, and participation in athletics and cocurricular programs. The word Skookum means excellence in the Chinook Indian culture. Green and Tierney were among 15 students named to receive the award at a dinner in the fall.
Shawndell Cummings of Pittsfield received the Matthew Sullivan Scholarship during the Senior Luncheon and Recognition Celebration put on by Rochester (N.Y.) Institute of Technology's Department of Criminal Justice and Center for Public Safety Initiatives.
This award is named for Matthew Sullivan, who passed away in September 2000. He was a 1997 graduate of the criminal justice program and was employed by the U.S. Department of Justice, Immigration and Naturalization Service agency in Boston. This memorial scholarship was established to keep his memory alive in the RIT community and to help other criminal justice students complete their education.
Kirby Bryce of Clarksburg has been named to the dean's list for all four years at Curry College, located in Milton. He was recognized at the annual reception to honor graduating students who have demonstrated academic excellence. Bryce is one of 88 students honored this year.
Honor Societies
The following local residents were recently initiated at the colleges they are attending into the Honor Society of Phi Kappa Phi, the nation's oldest and most selective all-discipline collegiate honor society. Only the top 10 percent of seniors and 7.5 percent of juniors are eligible for membership.
Westfield State University
Katherine Chapman and Jacob Prudhomme, both of Adams; Shayne Garvey of Clarksburg; Nicole Hebert-Whitman and Alexis Reder, both of Dalton, Michaela Grady of Pittsfield and Hanna Ciepiela of Windsor
State University of New York at Potsdam
Samantha Twing of New Marlborough
University of Massachusetts
Debora Coons of Lanesborough and Krystle Gallo of Pittsfield
Clarkson University, Beacon, N.Y.
Noah Chicoine of North Adams, majoring in mathematics
Graduations
Samuel Polastri of Becket was presented an associate's degree in construction technology and John Cosmus of East Otis a certificate in computer-aided drafting during graduation exercises in December 2018 at the State University of New York at Delhi.
Academic Lists & Awards
Devan Galli of North Adams, a graduate of Mount Everett Regional School, earned first honors on the fall dean's list at Clark University in Worcester. Galli, a freshman who is playing softball for the Cougars this semester, earned a 3.9 grade-point average. A 3.8 or higher is required to make first honors.
Lucienne Burnett of Great Barrington, a student at Fairleigh Dickinson University's Metropolitan Campus in Teaneck, N.J., has been named to the Honors List for the fall 2018 semester.
Amaya Smith of Williamstown, a junior at the college preparatory Pomfret (Conn.) School, was named to the high honors list for the winter marking period.
Samantha Daniels of North Adams is the recipient of the Faculty Memorial Fund Scholarship at
Vermont Technical College
in Randolph Center.
The award, and a Faculty Award given to Harrison Heist of Hancock, Vt., were presented by the Vermont Tech Faculty Assembly. Several students were considered for the awards and wrote personal essays that reflected on their education thus far and their future goals. The Faculty Award is given to a student who has made the greatest contribution to student activities.
The Memorial Fund Scholarship is given to a student who has already completed their first year and whose outstanding scholarship exemplifies excellence in technology. This scholarship was created as a memorial to past faculty members who have passed away. Daniels is also a residence adviser and is president of the student-led ASHRAE club on the Randolph campus.
While Daniels works hard for her high grades she says she is OK with not being a 4.0 student.
"I still strive to achieve a 4.0 GPA but I am able to focus more on learning the material rather than just doing well [academically]," she said. "I am able to apply my education to real-world problems and even help other students that are struggling."
Stacey Neveu of Williamstown, a student at the State University of New York at Oneonto, has been selected to receive the Haverly and Alice Moyer Scholarship and Hewitt Pantaleoni Memorial Music Fund. More than 700 students were awarded scholarships at the annual scholarship dinner held on April 4.
Joseph Mcninch of Lenox has been named to the Emerson College dean's list for the spring 2019 semester for achieving a GPA of 3.7 or higher. Mcninch is majoring in theater and performance at the Boston college.
Sara Pontier of North Adams qualified for the spring 2019 dean's list at Belmont University in Nashville, Tenn.